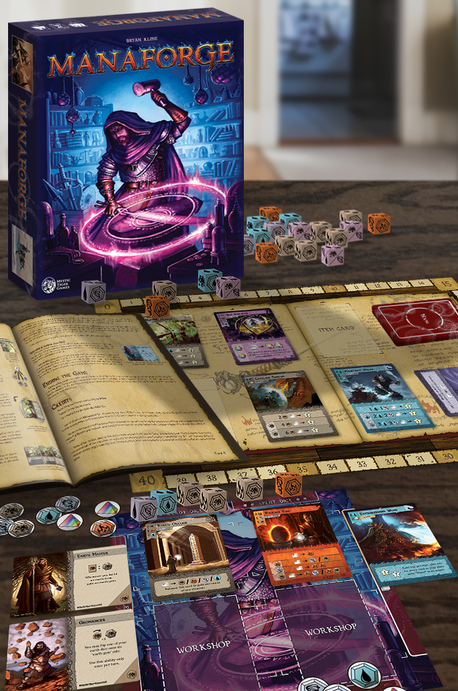 Manaforge is shipping to our Kickstarter backers soon!
Check back later for more ways to purchase Manaforge!
---

---
What is Manaforge?
Manaforge is a dice-rolling resource management game of crafting magical equipment for 2 to 4 players. Each player plays a wizard that specializes in creating magic items. These wizards cater to rich adventurers looking to trade their hard-won spoils for magical gear to make themselves more powerful. Each wizard owns a magic shop in which they display the fruits of their labor for gold-laden adventurers to come in and purchase. However, the adventurers' funds are finite. The wizards are competing to make their shops the most famous so that the adventurers will stop there first. And the best way to make a shop famous is to have the most impressive selection of useful and powerful magical gear. Whichever player's store obtains the most Prestige (victory points) will attract the customers and make the sales. May the craftiest wizard win!

Manaforge is played over nine rounds. At the beginning of each round, six cards representing the items that can be created that round are placed on the center board. Each player rolls their own handful of dice, the symbols on which represent the types of mana that they have to spend this round. Then in player order, each player spends that mana to construct one of the items in the center, taking its card and adding it to their collection. Some cards have an instantaneous effect and are then discarded, while other cards stay in play and grant the player benefits such as additional mana each turn or the ability to turn mana into Prestige. Beware, though: time is short! Each player may create only one item each round, so a player can only ever get nine cards in total.

A game of Manaforge takes roughly 60 to 90 minutes, depending on the number of players and their level of skill. Manaforge is intended for players ages 13 and up.


---
---
Media
Review: Radho Runs Through

Interview: Just Got Played
2016 Dice Tower Convention (part 1)

Play Session: Twitch Game Night
2016 Treasure Coast Comic Con

Review: Just Got Played

Interview: Just Got Played
2016 Dice Tower Convention (part 2)

Interview: Just Got Played
2016 Treasure Coast Comic Con

Review: The Thirsty Gamers

Interview: Just Got Played
2016 Dice Tower Convention (part 3)
---
Production Plan
The plan for Manaforge consists of three main steps: funding, manufacturing and shipping. Two of these three steps are now complete!

For funding, the plan was to run a Kickstarter campaign to raise the monies for manufacturing and shipping. Our campaign successfully funded at the end of April 2017. We didn't overfund by enough to make any of our stretch goals, but we did get enough that we were able to do some minor component quality upgrades anyway.

For manufacturing, we obtained several quotes from various game manufacturing companies, mostly located in China. In the end, we went with a Chinese company called MeiJia. Their quote was very competitive with the other numbers we received, and they have a track record of producing quality components. As of the beginning of October 2017, the manufacturing for a batch of 1000 games is nearly completed.

For shipping, we are using a U.K. based company called GamesQuest. While they mostly handle fulfillment shipping, they are also partnered with another company for freight shipping, making them a one-stop solution for moving Manaforge around. We are currently coordinating communications between them and the manufacturer, relaying shipping data such as dimensions, weights, and shipping details. The batch of games should be leaving the factory and headed towards Europe during the first couple weeks of October.

As of right now, the estimate for when backers will be receiving their copies of Manaforge is December 2017. We are aiming to have the games in backers' hands before Christmas.

Your very own magic shop is coming soon. Will you be ready?
---

Three Different Ways to Play Manaforge Online Now!
If you would like to play Manaforge right now from the comfort of your computer, you have three choices:

1) Play Manaforge on Tabletopia in your web browser

You can play Manaforge right in your web browser! This should be supported on most browsers, though depending on your browser you may be prompted to download and install the free Unity web player plugin. (Firefox needs this, Chrome does not. Other browsers may vary.)

Additionally, if you want voice chat with your game, Tabletopia has set up their own Discord chat server. You can use the web interface for Discord, or for more functionality and options you can get the Discord app (free download).

---

---
2) Play Manaforge on the Tabletopia Steam client

Tabletopia has also been released onto the Steam platform. If you already have Steam installed (which is free), you can download Tabletopia for free. Tabletopia has a subscription model where you can pay per month for extra features, such as the ability to play "Premium" games, host private game rooms, and create guilds. However, the base platform is free, and so is playing Manaforge. :)

---
3) Play Manaforge on the Tabletop Simulator Steam client (NEW!)

Manaforge has just recently been uploaded onto Tabletop Simulator. If you already have that program, then you should be able to just jump right in! If not, you'll have to purchase it. Tabletop Simulator typically costs $20, though if you're short on money, 50% off sales are rather frequent. Once you have Tabletop Simulator installed, you'll need to go to the Workshop area within the client, search for Manaforge, and "Subscribe" to it. This automatically downloads the files you will need to play.

---

---
---
Manaforge Gallery